Your gateway to explore Guanacaste
Hotel Giada is the right place for you if you are looking for an affordable yet good quality and service facility in one of the most vibrant but at the same time laid back beach communities in Guanacaste. The hotel offers the visit a great quality – price relation, where the expectations are always fulfilled. The 24 spacious rooms come with all the necessary amenities, including WIFI, AC, Mini Refri, Cable TV, mini fridge, private bath with hot water, daily maid service. Safe box are also part of the equipment. The hotel also has two swimming pools, a well known restaurant and pizzeria called Mama Gui, and a full service front desk and tour info center, where you cannot only ask the staff for what to do and see in the area, or request some special treat, but also inquire for information on rental cars, tours, transportation in general or other destinations you might want to visit after.
The charming Hotel Giada in Playa Samara is the perfect place to explore Guanacaste and other destinations in Costa Rica. Hotel Giada is a small beach hotel located at a short walk from the beautiful Samara Beach, in Guanacaste, Costa Rica. The Hotel offers comfortable and cozy rooms, Italian-Tico charm, amazing cuisine and a vast variety of tours and excursions to explore Samara surrounding beaches.
Hotel Giada is located at Samara's main entrance to Playa Samara, on the main street, so close to the restaurants, shops and to the beach. It's built and decorated in tropical style. Playa Samara is one of Guanacastes most beautiful beaches, with abundant nature and wildlife surrounding it. Our hotel is the perfect getaway and gateway to discover this beautiful region of Costa Rica. The 24 rooms of Hotel Giada are decorated in tropical style and equipped with all the comforts needed for a relaxing and enjoyable stay. The Hotel also has 2 pools with jacuzzi and green area.
At restaurant Mama Gui you can appreciate dishes of Italian cuisine, seafood or delicious pizzas, tempting desserts, all accompanied by a good wine or your favorite beverage. Courtesy breakfast restaurant and bar service are part of our service, and all this and a lot more will help you enjoy our tropical paradise. Mama Gui restaurant is a typical Italian restaurant specializing in pasta, pizza and fish and seafood, here you enjoy authentic Italian cuisine with the best typical Italian ingredients brought from Italy.
Sustainability Commitment
Hotel Giada is located at Samara's main entrance to Due to its great social and environmental commitment, the Giada Hotel is honored with the 100% CARBONO NEUTRAL COMPANY CERTIFICATION and is recognized with 4 leaves of the TOURISM SUSTAINABILITY PROGRAM by the Costa Rican Institute of Tourism (ICT)
All the rooms at Hotel Giada come with the same amenities, which includes air conditioning, mini refri, cable TV, WIFI, safe box, private bathrooms with hot water. There are differente rooms available depending on the occupancy, from single, double, triple and finally cuadruple occupancy. All the rates in all four categories includes a hearty breakfasts. Our main goal is to go beyond what people expect from a vacation in Playa Samara Beach, Guanacaste, and because of that, the amount of returning clients is abundant.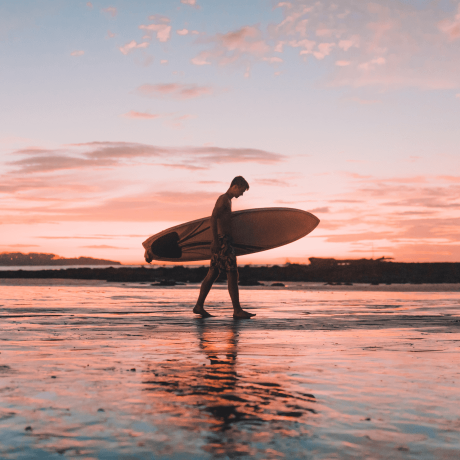 Playa Samara is a long, beautiful bay 7 km considered one of the safest in Costa Rica because of the coral reef that protects it and makes it the ideal place to practice all water sports. In this small town, they enjoy a warm climate all year round, in a relaxed setting, surrounded by an incredible flora and fauna that make it a paradise for nature lovers. You can relax in the shade of the coconut trees, caressed by the ocean breeze, admiring its colors, appreciate wonderful sunsets that invite contemplation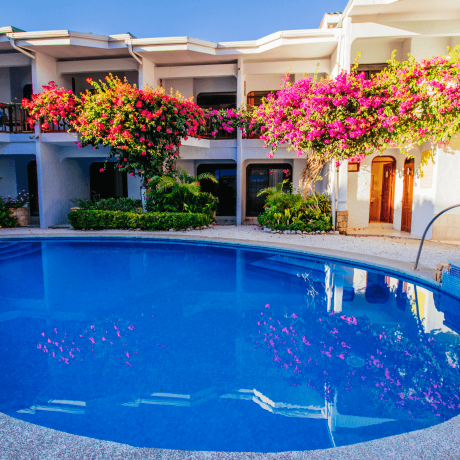 The Hotel is located at just 200 meters from Samara Beach, in downtown Samara, one of the most charming beach communities in Guanacaste.
We are a medium sized hotel, with friendly and knowledgeable staff waiting for you. Let us be the gateway for you to explore not just our beautiful beach, but other nearby highlights
Giada is a name born out of gratitude to Giovanni and Ada, 2 people who in 1992 helped and supported the romantic and visionary dream of the current and only owner, in the epic construction of the 1st stage of the hotel in Samara they had only few houses, the majority of fishermen, there was no paved road, there was no business, no radio or TV signals. The nearest stores and hardware stores were in Nicoya, 37 km road in poor condition. Sometimes, in the rainy season, due to the impossibility of crossing the rivers, you could not get to Nicoya, place of supply of building materials, food, practically everything. However, with patience and perseverance, in December 1993 the Hotel was opened. Since then, a good part of the hotel's income has been continuously reinvested in constant improvements and, finally, in 2004, with the help of a new partner, there was an increase from 13 to 24 rooms with all the services and amenities required in our times , and last with an excellent wi-fi signal throughout the structure. We thank all our customers and our suppliers who have believed and supported our growth at any time and who now allow us to be a small but dynamic company whose goal is to constantly improve the quality of the stay of our valued guests.
Resultados de traducción It is a small but nice hotel. It has two swimming pools and a restaurant. The service is very good and we loved our stay here. The employees were very nice. Our room was a bit small but nice. The room had a fan and air conditioning.
In general I really liked the hotel, the location, the facilities, all the staff is very friendly, the breakfast very good, the only suggestion is that in the second pool, the steps that are by the jacuzzi should have a railing. It was my first time in Samara, but if I return, I would stay at the Giada hotel again.
Hotel with good location at the entrance of the town. Clean and comfortable rooms. The restaurant is very good, we dined there the two nights we stayed and we were not disappointed with any of the dishes
Read more reviews in Trip Advisor